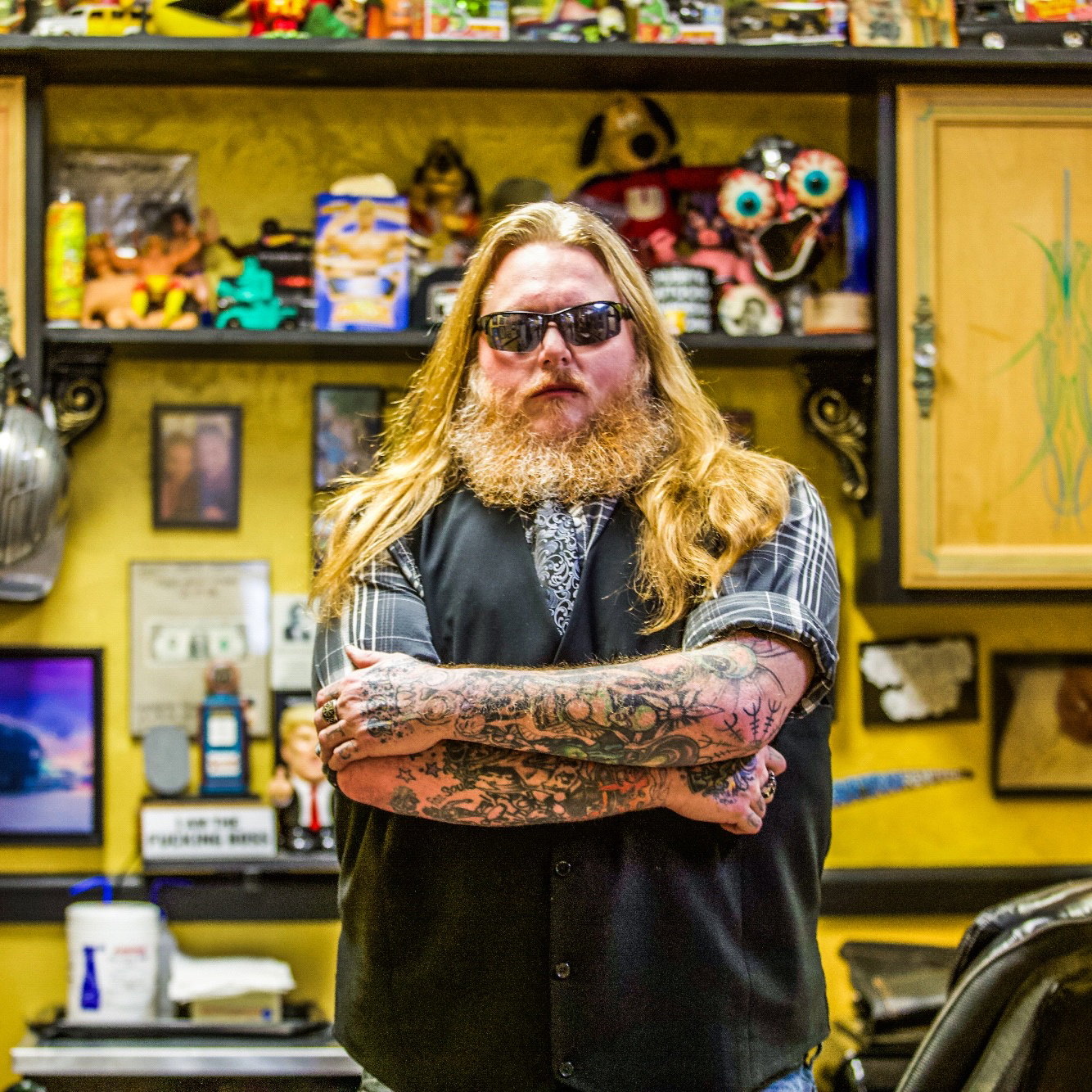 Bigman
A lifelong aspiring entrepreneur, he began his career in the service of others to which he still credits the initial drive and passion for tattooing and piercing. However, for over a decade he has been his own boss and as the owner of Phat Tats Tattoo and Body Piercing Studio, he enjoys and loves managing and being the mentor to so many bright, exceptional artists.
His rise was a struggle, like so many in his field. In the early years, he was in college studying to be an architect, when he went to see a tattoo artist buddy. That day back in 1989, Bigman got his first tattoo at the age of 18 and was forever addicted. His buddy asked if he'd like to learn to tattoo, since he clearly had a passion for art and design, and Bigman accepted. His friend was kind enough to mentor him for two years, then he moved to Corpus Christi, TX to further his career. In 1991 Bigman was working as a full-fledged tattoo artist in Corpus Christi, Texas, striving harder and harder every day to master his craft.
After years of honing his skills and developing his distinct style, he has built a huge following. He's won over 60+ awards at conventions around the country and has been published and featured in several magazines. While many that are in the field become stagnant after they've been in the business 30 years, Bigman continues to grow and learn new techniques so that he can stay an industry leader. As the owner, lead artist and mentor at Phat Tats Tattoo and Body Piercing studio, you can rest assured that his work is truly exceptional, and his portfolio speaks for itself.
Special note: Be prepared for a humble experience with a fun guy. You'd never guess that he's a bit of a local legend in the Corpus Christi area. If you've ever been in public with him, you understand what we mean.
Specialties: Color, Realism, Watercolor, Black/Gray, Portraits, etc…
His favorite client is the one that gives him true artistic license. Being a master, he can do anything, but loves it when a client comes in and says, "I like stuff like this…, this is where I want it, what would you suggest we put here in this space?"